Do you want the modded AOSP ROM for improving your Xiaomi Redmi Note 4 performance, battery life, etc? Then you came to the right place.
Here we have posted the ROM for Xiaomi Redmi Note 4 with all details, screenshots and download link. Take a look at the below features.
Another ROM: Redmi Note 4 Epic ROM 7.3.23 – Stable & Better Battery, Xiaomi Redmi Note 4 Optimized MIUI Rom
Note: We are not responsible for any type of damage that will happen during this Redmi Note 4 ROM installation process. If you got any error or brick your phone , please do some research on it, most of the time you will get the solution.
Features of Modded AOSP ROM
+ Based on AOSP 6.0 @cofface
+ Multilanguage
– Removed Browser
– Removed Calculator
– Removed Calendar
– Removed Camera
– Removed DeskClock
– Removed FileManager
– Removed Gallery2
– Removed LatinIME
– Removed Messaging
– Removed MTKLogger
– Removed Music
– Removed PicoTts
– Removed Contacts
– Removed Dialer
– Removed Launcher3
+ Added Chrome Browser
+ Added Google Apps
+ Added Google Calculator
+ Added Google Calendar
+ Added Google Camera
+ Added Google Contacts
+ Added Google Desk Clock
+ Added Google Dialer
+ Added Google Keep
+ Added Google Keyboard
+ Added Google Play services
+ Added Google Play Store
+ Added Google Maps
+ Added Google Messenger
+ Added Google TTS
+ Added Pixel Launcher
+ Added Google Wallpapers
+ Added YouTube ModAds
+ Added Sony Album
+ Added Sony Music
+ Added Sony Video
+ Added Yahoo! Weather
+ Added Root Explorer
+ Deodexed & Zipaligned
+ Unlock Doze
+ Custom Bootanimation
+ Moded some icons
+ iOS Fonts
+ Fixed Volume Speaker
+ Fixed Bluetooth
+ Fixed Wifi Hotspot
+ *unlock init.d*
+ New Baseband (Better Signal)
+ Adblock (Block Ads)
+ Tweak All In One (System Optimization: Lag Fix, Ram Management, Battery Life,..)
+ SuperSU2.79 (Newest SuperSU)
+ Deep Sleep Fix (3G Sim Card)
Download Link of Modded AOSP ROM for Redmi Note 4
Bugs:
Stable
No bug
Important Notes to install Modded AOSP ROM.
1: Xiaomi Redmi Note 4
2: Unlocked Bootloader
3: Custom Recovery
Installation instructions:
Wipe DATA
Wipe SYSTEM
Flash AOSP-ROM-6.0-Nikel-hoangnguyen.zip file
Reboot
Screenshots of This ROM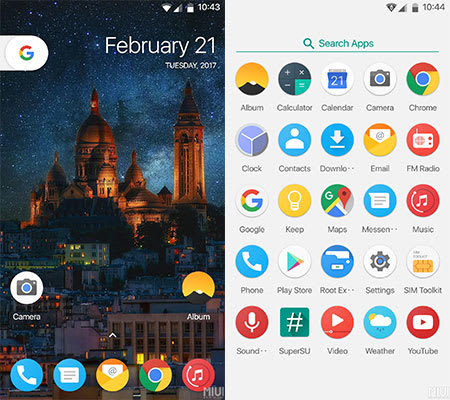 Thank to:
– @cofface (base AOSP 6.0)
– @hoangnguyen3284
Hope you guys like this ROM. Please share it, if you like this rom.
Also if you have any qestions or opinion about this ROM, let us know in comment box.